Shiro Gutzie on Instagram: Twins #Paris
Jumeaux #Paris
……………………………….
Bill Kaulitz on Instagram: warning! #purplehair
attention! #cheveuxmauves
Billy on Instagram: Take a bite #Paris
Billy on Instagram: Paris Paris mon ami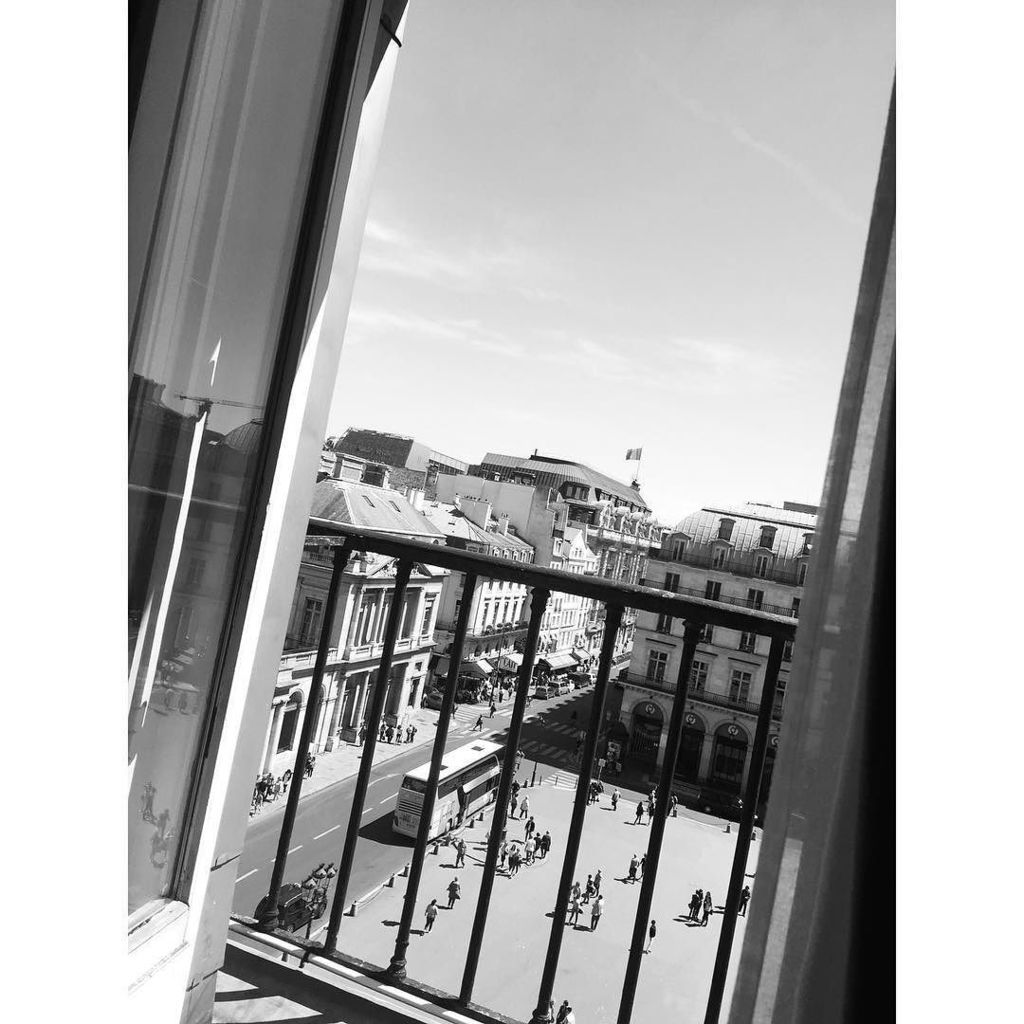 Hôtel du Louvre (05.06.2016)
https://twitter.com/Alien_mia/status/728591100714307584
………………………………….
Listening session
……………………..
Gagalien_: We didn't have the exhibition!
Bill would like to open a night club with a big pool!
FranzyskaMaria: I asked bill about the song forbidden love – first he told something about religion – then he meant that in the 21 century no love should be forbidden…and he said that he doesn't know how other people will react.
One ask if he would like to make his own Parfum – he said that he never thought about it but anyway he love to smell good so maybe later.
One asked if he would like to open his own nightclub – he said "YES I REALLY WANNA DO THAT!" And that there it should be with a pool and a tattoo store so that people can get drunk and can get a fast tattoo then.
Avectoii__: Twins book is not finished yet. Bill needs to push Tom to write. Maybe in the end of the year they'll finish it. Or the next. Soon
Kaulitzaa: He said he will do special things for every song on the EP, the next will maybe be fashion line.
Bill said he felt like a dick for sitting on the small stage, then it started turning and hes like "oh no now its turning".
TokioHotelusa: Bill's shirt in Paris says "Take a Bite" on the front and "I enjoyed every sandwhich on the back".
Gayorg483: LDBM was the first song to be released because it was the first song he recorded.
He likes being without the rest of the band because it's allllll about him ahah 🙂 but he added that he always speak for hem so it wasn't really different to meet us without them but he was the only one nervous so that was the difference. He said that Tom didn't understand why he was so nervous the day before LA bc he doesn't perform
…………………………..
Billy on Instagram: Cafe de Flore #Paris
Billy on Instagram: Paris. 1 more day and a limited amount of books. Come to a public signing. First come first serve. Saturday 6.30p @madlords #Booksigning
Paris. Un jour de plus et un nombre limité de livres. Venez à une séance dédicaces publique. Premier arrivé premier servi. Samedi 18h30 @madlords #SignaturedeLivres
Andrew Brawl on Twitter: don't miss the chance to get your copy signed by #BILLY later at @madlords, paris. just three hours from now..
Ne manquez pas votre chance d'avoir votre copie signée par #BILLY plus tard aujourd'hui @madlords, paris. dans seulement trois heures…
Bill Kaulitz on Instagram: #rafsimons and #zegna today for my #booksigning @madlords
#rafsimons et #zegna aujourd'hui pour ma #séancedédicacedelivres @madlords
Bill Kaulitz on Instagram: being real Parisian
On est de vrais Parisiens  
https://twitter.com/UNGUlDED/status/728983421561737216
…
https://twitter.com/Aliens1803/status/729025740507889665
…
Billy on Instagram: today at my #Booksigning event @madlords #BILLY #book
aujourd'hui à la #séancedédicace de mon livre @madlords #BILLY #livre
Billy on Instagram: #paris #rafsimons #zegna #saintlaurent
Treehouse ticketing on Instagram: #Billy #privatelisteningsession #paris
#Billy #sessiondécouteprivée #paris
…