Gustav Schäfer on Instagram: Lets go! My new #car! 😊 #mexiko #showday #feelitall
C'est partit! Mon nouveau #char! 😊 #mexiko #journéedeconcert #feelitall
Interview for NotimexTV "Members of Tokio Hotel celebrate their birthday in Mexico"
…
With Jorge Anzaldo for Exa TV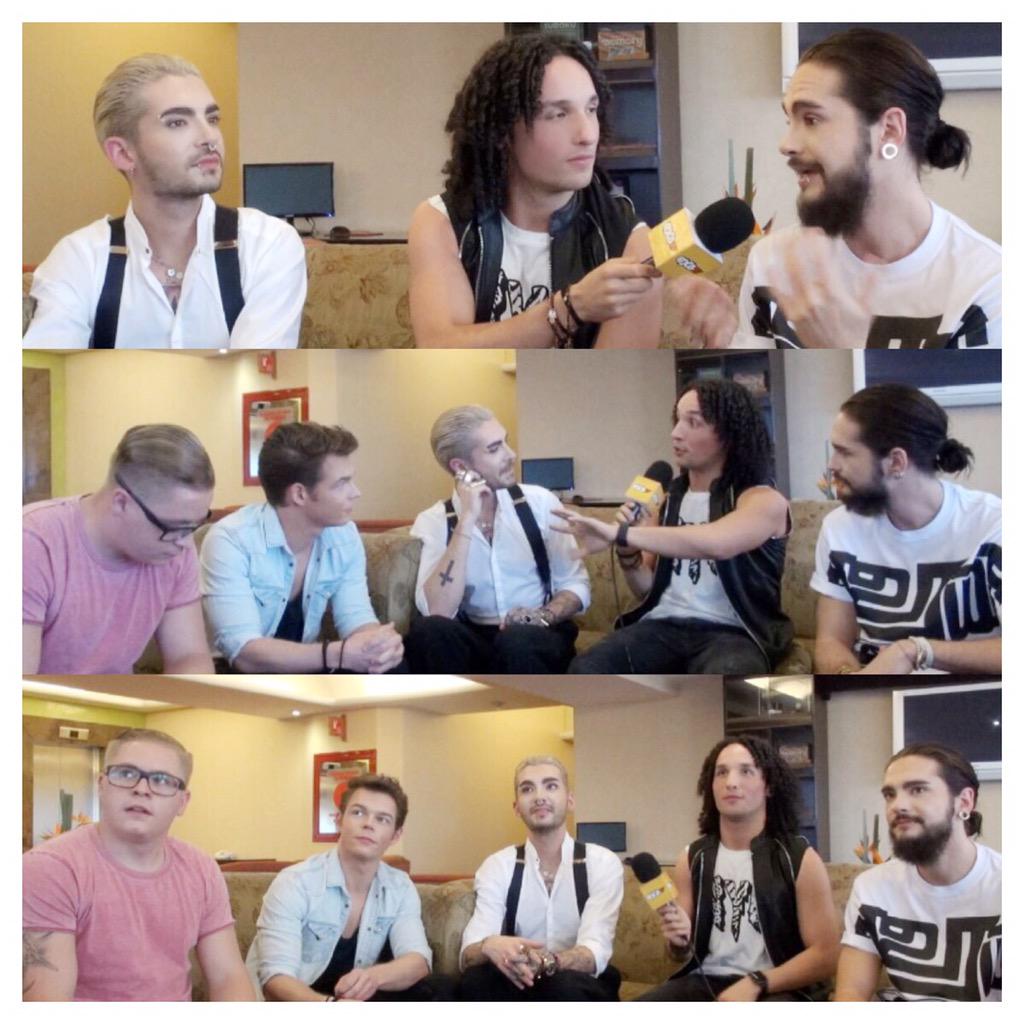 Twitter – De-Code LTD: Hola Mexico!! Estan listos? Let's give the @tokiohotel Twins a great birthday present with the loudest show ever! 🎂🎉
Salut le Mexique!! Vous êtes prêts? Faisons un super cadeau d'anniversaire pour les jumeaux de @tokiohotel avec un concert plus fort que les autres! 🎂🎉
…
Q&A & concerts highlights:
An alien asked the guys which — other — instrument they'd like to play: Gustav said guitar, Bill said piano, Georg said saxophone and Tom said he doesn't have to answer this question as he already knows how to play all instruments. / Bill said that when he looks at himself nude in the Mirror, he would like to fill his arm with tattoos. / Fans asked Bill what is the most special thing in his life, what he loves the most in life, and he said Tom. / Gustav put on a sombrero and gave the twins a cake. Bill couldn't stop saying thank you. / Bill said he wanted big boobs & also said "Te quiero puta". / Gustav did his wave & that's when they brought the cake; They also did a toast with Champagne. / There was a fan with huge 26 shaped balloons, Bill saw them and smiled. / Bill said, on stage, that it was his best birthday ever!
Une fan a demandé aux gars quel (autre) instrument ils aimeraient jouer: Gustav a dit la guitare, Bill a dit le piano, Georg a dit le saxophone et Tom a dit qu'il n'avait pas à répondre à cette question, puisqu'il sait déjà jouer de tous les instruments. / Bill a dit que lorsqu'il s'observe nu dans le miroir, il aimerait couvrir ses bras de tatouages. / Les fans ont demandé à Bill ce qu'est la chose la plus spéciale dans sa vie, ce qu'il aime le plus au monde, et il a répondu Tom. / Gustav a mis un chapeau et a donné aux jumeaux un gâteau d'anniversaire. Bill n'arrêtait pas de dire merci. / Bill a dit qu'il voulait de gros seins et a aussi dit "Te quiero puta". / Gustav a fait sa hola et c'est à ce moment-là qu'ils ont apporté le gâteau; ils ont aussi fait un toast avec du champagne. / Il y avait une fan avec de gros ballons en forme de 26… Bill les a vus et a sourit. / Sur scène, Bill a dit que c'était son meilleur anniversaire.
Another question of the Q&A / Une autre question du Q&A:
..
Happy-Birthday-on-stage videos!
https://instagram.com/p/7HaeSiOueS/
https://instagram.com/p/7HckDEkO5D/
…
..
Birthday hug (via De-Code LTD's periscope)
…
Adorable, look what Bill Kaulitz got as a gift!
..
Gustav Schäfer on Instagram: Thanks to this very special city. That was great ‪#‎MexicoCity‬! ‪#‎MuchasGracias‬#sombrero#hungover
Merci à cette ville très spéciale. C'était vraiment bien #Mexico! #mercibeaucoup#chapeau#lendemaindeveille
https://instagram.com/p/7KSPYlCNNI/
…