Gustav Schäfer on Instagram: Cuddling with pumba. 😊 #detroit #backstage #showday
En train de faire des câlins à Pumba. 😊 #détroit #coulisses #jourdeconcert
Bill Kaulitz on Instagram: in #Detroit today #feelitallworldtour
aujourd'hui à #Détroit #tournéemondialefeelitall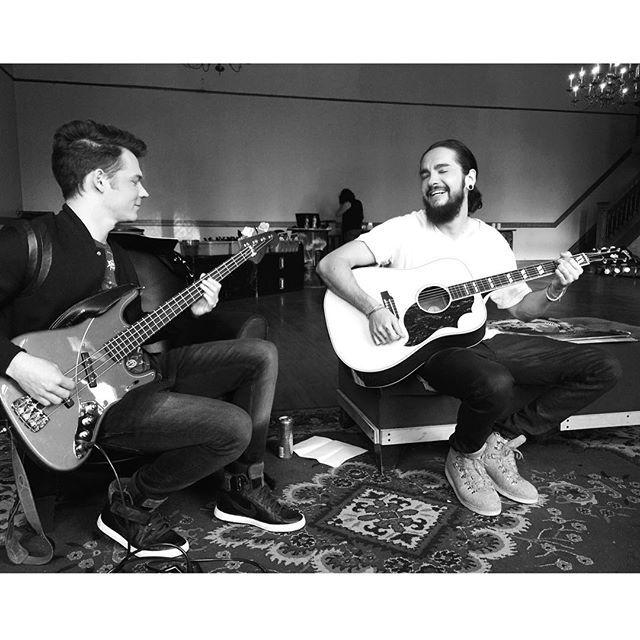 More info:
Bill had to sing "Kings Of Suburbia" alone since nobody bought the FIA package. / Aucun pack « FIA » n'a été acheté pour le concert de Detroit, donc Bill a chanté « King Of Suburbia » seul.
An alien asked them which TV character they'd like to be if that was possible. Bill said he'd like to be the son of Frank in "House of Cards", Georg would like to be a "prospects" of "Sons of Anarchy", Tom would like to be anyone in "Game of Thrones" and Gustav said he doesn't really watch TV, but Bill told him he could be Samantha in "Sex and the City". / Un fan a demandé quel personnage de télévision aimeraient-ils être si c'était possible, Bill a dit qu'il voulait être le fils de Frank de « House of Cards », Georg veut être un « Prospects » de « Sons of Anarchy », Tom aimerait être n'importe qui dans « Game of Thrones ». Gustav a dit qu'il ne regardait pas vraiment la télé, mais Bill a suggéré qu'il pourrait être Samantha de « Sex and the City ».
An alien asked them a question concerning fan accounts. They do not have any private or secret accounts. The only other account they have is Pumba's (on Instagram) and it is private because there are naked pictures of Pumba on it.
Someone asked them what's the weirdest place they have had sex. Gustav: In a plane. Tom: In the woods. Georg: somewhere in Magdeburg.. Bill said he never had sex in a public place. When Tom said in the woods, Bill had his eyes wide open and asked Tom when that happened. Tom said when he was 15. / La fan a demandé aux garçons quel était l'endroit le plus bizarre où ils ont eu des relations sexuelles. Gustav : Dans un avion. Tom : Dans une forêt. Georg : Dans un endroit bizarre à Magdebourg. Bill a dit qu'il n'a jamais couché dans un endroit public. Quand Tom a répondu « dans une forêt », Bill l'a regardé avec les yeux grand ouverts et lui a demandé quand ça avait eu lieu. Tom a alors dit que c'était quand il avait 15 ans.
Bill said he often looks a blog in particular to see pictures and videos of the band; he didn't say which one. / Bill a dit qu'il regarde régulièrement un blog en particulier pour voir les photos et vidéos du groupe. Il n'a pas dit lequel c'était.
Bill Kaulitz on Instagram: thanks #Detroit ! that was fun
merci #Détroit ! C'était super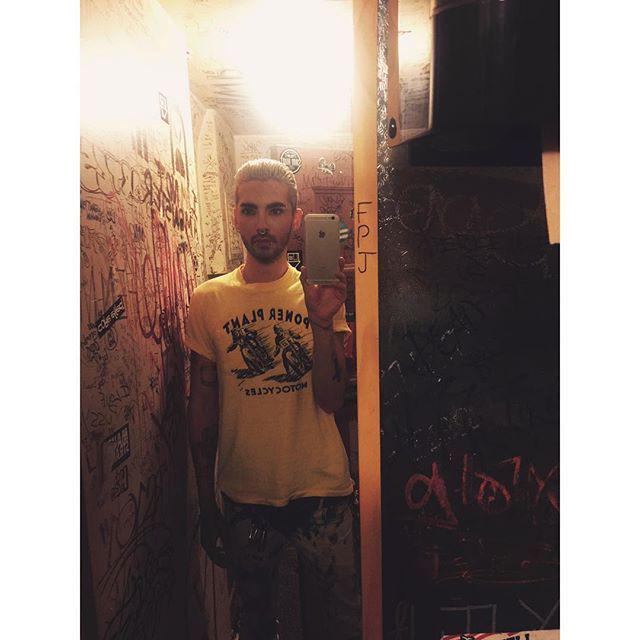 ….
 More to come… Stay tuned! (videos, Q&A, concert & M&G pictures, etc)