Georg Listing on Instagram: Good to go! Are you ready #sanfrancisco ? #FIAworldtour
Prêts à y aller ! Êtes-vous prêts #sanfrancisco ? #tournéemondialeFIA
Twitter – De-Code LTD: The time is now! @tokiohotel all packed up and ready for tonight. San Francisco ready to #FIA? #FIASanFrancisco
Le moment est venu! @tokiohotel sont prêts pour ce soir! Et vous, San Francisco? #FIASanFrancisco
Nous sommes dans le bus de tournée, en chemin pour #FIASanFrancisco! #FIAÉtatsUnis
Bill Kaulitz on Instagram: first show tonight!!!! #feelitallworldtour
premier concert ce soir!!!!! #tournéemondialefeelitall
Bill Kaulitz on Instagram: caught sleeping between interviews
surpris en train de dormir entre les entrevues
Gustav Schäfer on Instagram: Short powernap! 😴😜#toav #sanfrancisco #showday
Powernap! 😴😜#toav #sanfrancisco #journéedeconcert

LWLYB M&G: There are around 30 fans at the Meet & Greet (3pm PT). Check in for DITD is only at 5pm; 6pm for Great Day packages. Today's LWLYB M&G is before the soundcheck (it wasn't the case in Europe) because it's at the hotel and not at the venue. It might be different for the other dates, though. An alien asked them if they have planned anything for the DDM's anniversary in Baltimore. The answer is no, but Bill said they might just give free drugs to everyone. Someone asked Bill what he'd do in a zombie apocalypse and he said he is great in disaster situations and he hopes for an earthquake – in which nobody gets hurt – just because he finds it so exciting; he'd go out with a gun and kill some zombies. Then somebody asked him what he'd do if Tom were the zombie, so he said he would just let Tom eat him.
Il y a environ 30 fans au M&G (à 15h). Le Check in pour les DITD est seulement à 17h, celui des Great Day à 18h. La rencontre d'aujourd'hui a eu lieu avant les répétitions – ce qui n'était pas le cas en Europe – puisqu'elle a du avoir lieu à l'hôtel au lieu d'à la salle. Ce devrait être toutefois différent pour les autres dates. Une fan a demandé aux gars s'ils avaient prévu quelque chose pour l'anniversaire de DDM à Baltimore. La réponse est non, mais Bill a dit qu'ils pourraient peut-être donner de la drogue gratuitement à tout le monde. Quelqu'un a demandé à Bill ce qu'il ferait lors d'une apocalypse de zombies and il a dit qu'il est bon dans ce genre de situations et qu'il espère qu'il y ait un tremblement de terre – durant lequel personne ne serait blessé – juste parce qu'il trouve ça excitant; il sortirait avec un fusil et tuerait quelques zombies. Quelqu'un lui a alors demandé ce qu'il ferait si c'était Tom le zombie, et Bill a dit que dans ce cas-là il laisserait Tom le manger.
Tokio Hotel arrived at the venue at 4:20p PT! / Les gars sont arrivés à la salle à 16h20 PT.
Les billets sont 30$ à la porte ce soir pour Tokio Hotel! Les portes ouvrent à 19h, Silent Pilot performent à 19h30, MXMS à 8h et Tokio Hotel à 9h! À tout à l'heure…
Soundcheck:
https://twitter.com/tokiohotelusa/status/625825213461082112
Tokio Hotel also played GGAG & WFU. Even Ander from Adventures In Wonderland sang Louder than Love! // Tokio Hotel ont également joué GGAG & WFU. Même Ander d'Adventures In Wonderland a chanté Louder than Love!
Twins Cosplays:
https://twitter.com/tokiohotelusa/status/625837360706535424
Les répétitions sont terminées – quelle belle et intime expérience! Ils ont joué CIG, GGAG & WFU! Bien sûr, ils ont été parfaits!
Pour le soundcheck, Bill et Tom sont arrivés en premier et Bill a reconnu un groupe de filles allemandes en première rangée; ils ont commencé à parler en Allemand.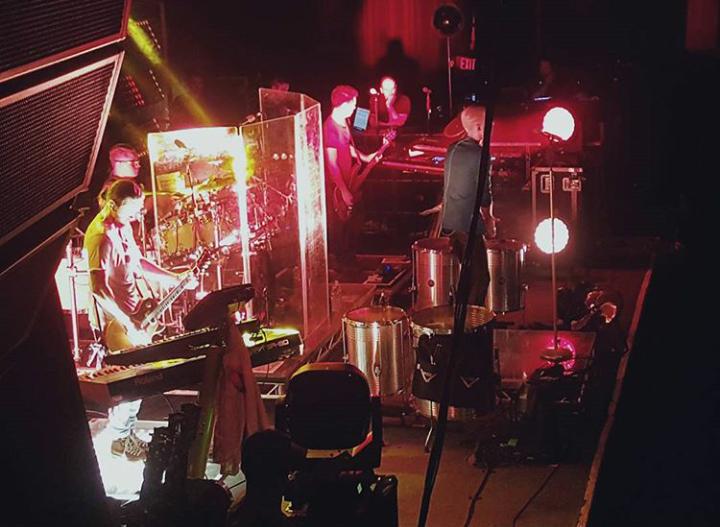 Gustav Schäfer on Instagram: Back at my spot! Are you ready San Francisco? 3 hours to go! #sanfrancisco #feelitallworldtour #part2
De retour à mon spot! Êtes-vous prêts San Francisco? Dans 3 heures! #sanfrancisco #tournéemondialefeelitall #partie2
MusicJunkiePress on Instagram: Tokio Hotel at the Fillmore Today. Our interview with them will be up tomorrow.
Tokio Hotel au Fillmore aujourd'hui. Notre entrevue avec eux sera publiée demain.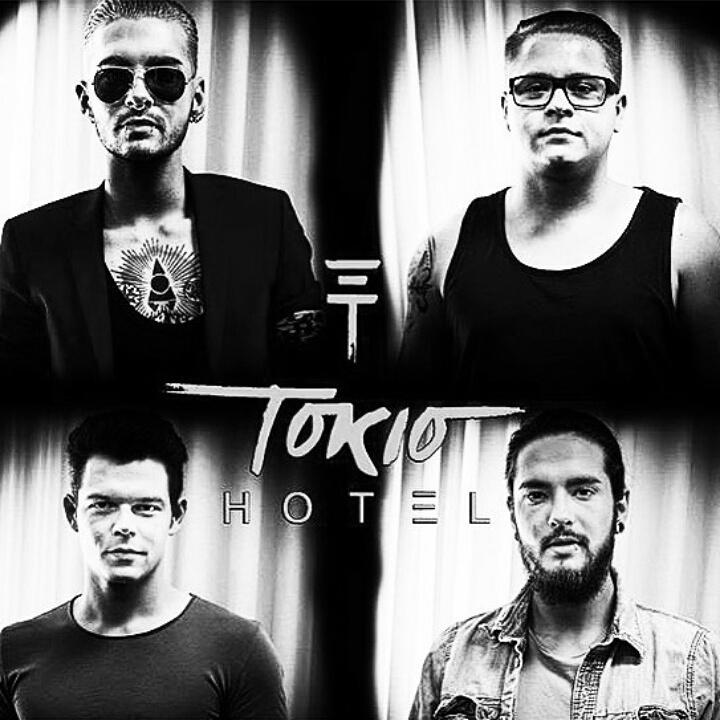 TheRockinRyan on Instagram: Tokio Hotel interview coming soon, badass guys and so down to earth.
Notre entrevue avec Tokio Hotel arrive bientôt. Ce sont des gars géniaux et terre à terre!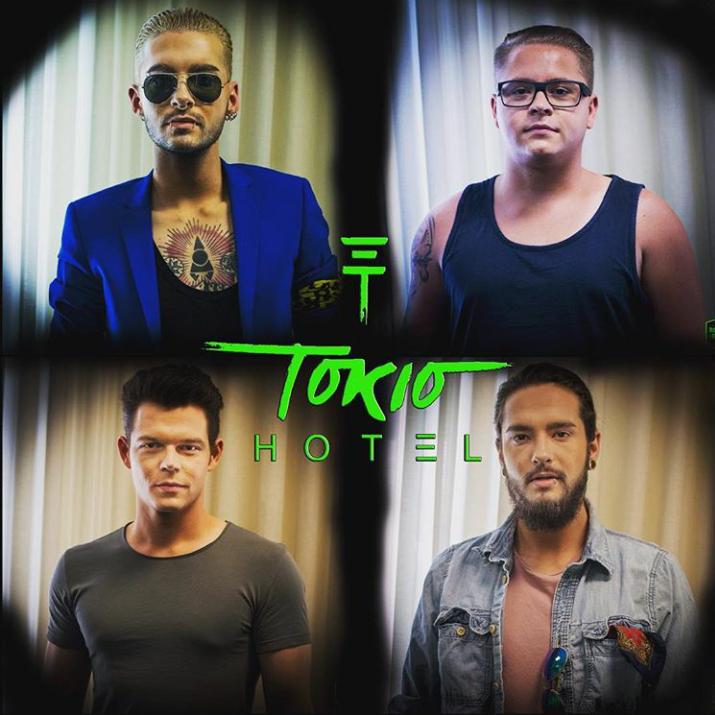 The doors were supposed to open at 7pm; they are 20 minutes late. People start to enter into the venue only at 7:20 PT, but not everyone. // Les portes devaient ouvrir à 19h; ils sont 20 minutes en retard. Les gens commencent à entrer dans la salle seulement à 19h20, mais pas tout le monde…
38 minutes later, they finally opened the doors! Silent Pilot is already on stage. They stop performing at 8pm and MXMS arrive 10 minutes later. They leave the stage at 8:35. Shiro is taking pictures of the audience. // 38 minutes plus tard, ils ont enfin ouvert les portes! Silent Pilot sont déjà sur scène. Ils cessent de jouer à 20h et MXMS arrivent sur scène 10 minutes plus tard… et repartent à 20h35. Shrito prend des photos de la foule depuis le balcon.
Il va bientôt y avoir un tremblement de terre @tokiohotel à SF. Ou peut-être une mousson? #FIASanFrancisco
Setting up:
https://twitter.com/_shelivestorun/status/625874743808368640
La salle semble pleine; je suis contente pour les gars!
https://twitter.com/tokiohotelusa/status/625875700046651392
De plus en plus près! Ça commence déjà à pousser.
…
Twitter – Silent Pilot: THANK YOU, @FillmoreSF All you #Passengers & #Aliens made our night singing along with me!
MERCI, @FillmoreSF, Vous tous, #Passengers & #Aliens, Avez fait notre soirée en chantant avec moi!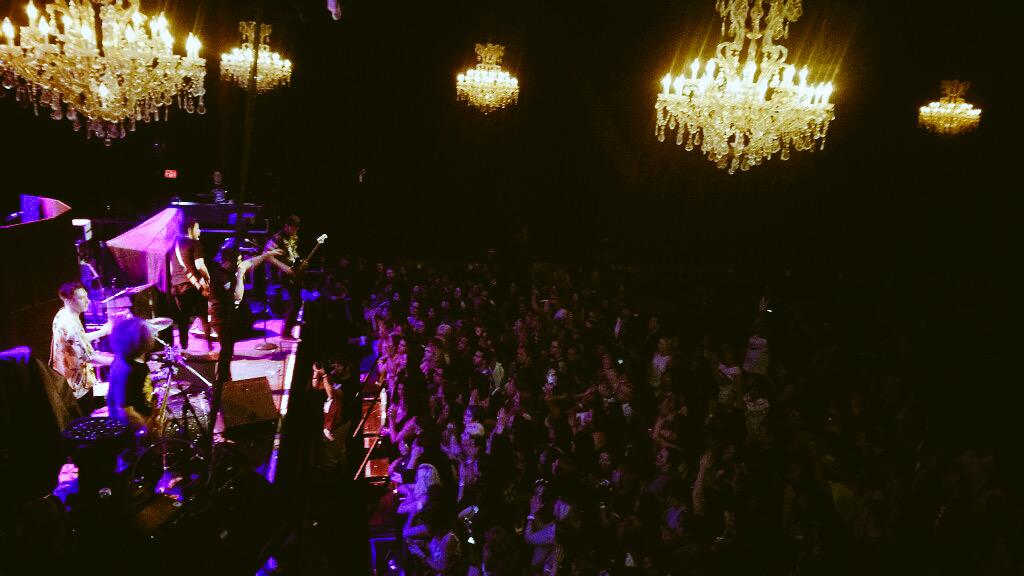 https://twitter.com/invadedd_/status/625882997351317504
Tokio Hotel are now on stage (9:18p) ! First song: We Found Us. // Tokio Hotel sont maintenant sur scène (21h18). Première chanson: We Found Us.
Thanks a lot to everyone who took pictures and videos during the concert, especially @Caffegiorno. You're awesome! // Merci à tous les fans qui ont pris des photos et des vidéos pendant le concert, surtout @caffegiorno. Vous êtes géniaux!
https://instagram.com/p/5qrC5lhb2y/
https://twitter.com/PPgodess/status/625951041595412480
…
Merch: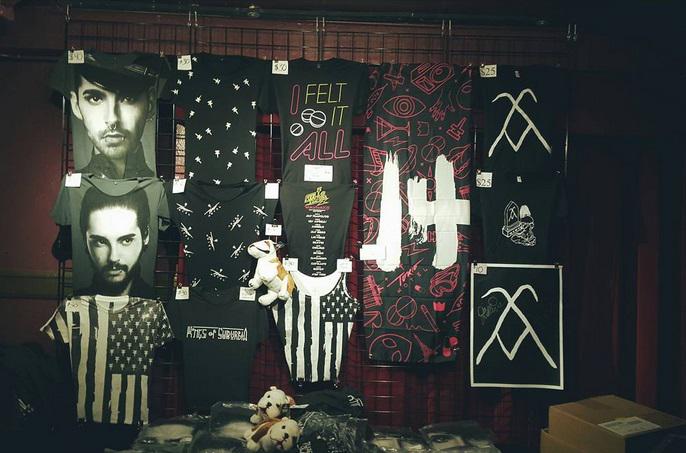 Musicjunkiepress on Instagram: Tokio Hotel blowing the roof off the Fillmore. They sound incredible.
Tokio Hotel cassent la baraque au The Fillmore. Ils sont incroyables!
https://instagram.com/p/5qwGaLmP0I/
…
Twitter – De-Code LTD: It's on! Join us on the @tokiohotel road this Summer! Thank you San Francisco. Next stop LaLa Land.. #FIASanFrancisco
Et voilà! Rejoignez-nous sur la route de @tokiohotel cet été! Merci San Francisco. Prochain Arrêt LaLa Land… #FIASanFrancisco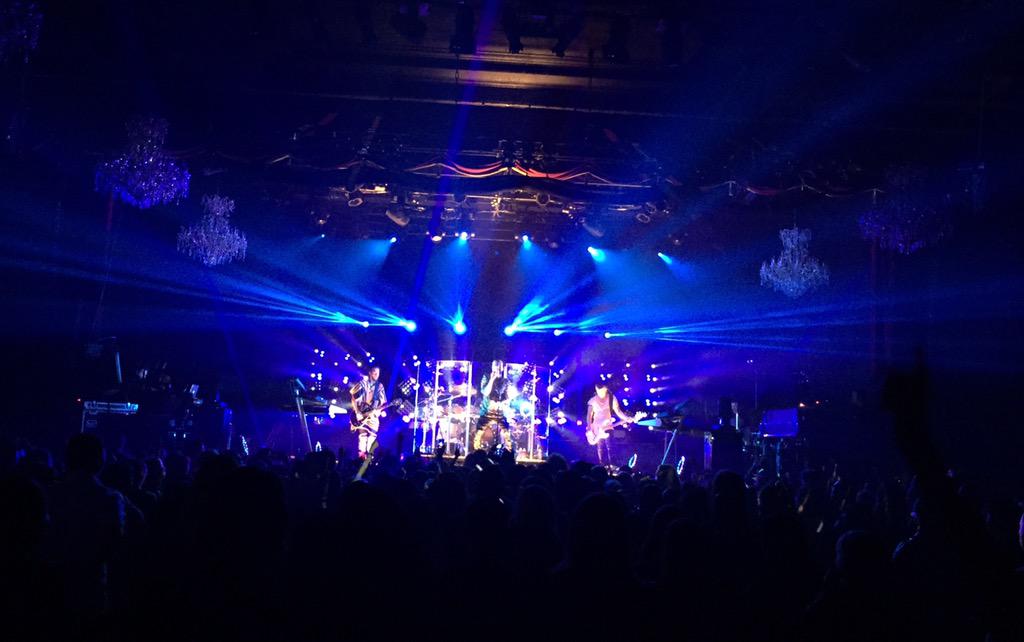 https://twitter.com/TrejoThePilot/status/625904398863044608
…
Great Day M&G: At 11:15pm, drinks are given to the fans in a little room. They are super excited to meet the band in just a few minutes! The Q&A did end at 12:15am. The guys said during the M&G that they will announce new dates next week; They also said they will go to Ukraine. Bill said he wears white when he's having a bad day, because he feels like it makes people look more awake. Someone asked Gustav what it's like to be the only maried man in the band; Tom said: not much has changed – he just can't go to the strip club with us. Then Bill said he (Tom) & Georg would also get into trouble and that only him (Bill) can go to the strip club. Fans start taking pictures with the band right after.
A 23h15, des boissons sont offertes aux fans dans une petite pièce. Ils sont supers nerveux à l'idée de rencontrer le groupe dans à peine quelques minutes. La séance de questions/réponses s'est terminée à minuit et quart. Les gars ont dit durant le M&G qu'ils allaient annoncer de nouvelles dates la semaine prochaine et qu'ils vont aller en Ukraine. Bill a dit qu'il porte du blanc lorsqu'il passe une mauvaise journée, puisqu'il a l'impression que les gens ont l'air plus réveillés ainsi. Quelqu'un a demandé à Gustav ce que ça fait d'être le seul homme marié dans le groupe et Tom a dit que ça ne changeait pas grand chose, à part qu'il ne peut plus aller dans des bars de danseuses avec eux, ce à quoi Bill a répondu qu'en fait Georg et Tom auraient des problèmes s'ils y allaient et qu'il est donc le seul dans le groupe à pouvoir aller dans ce genre d'endroits. Les fans ont commencé à prendre des photos avec le groupe juste après.
…
Tokio Hotel on Instagram: San Francisco 🌉 !! thanks for this incredible tour start🙌! Feels so good touring the US again! Next stop LA 🚌🚀🎉 #FIAUSA #FIASanFrancisco
San Francisco 🌉 !!  Merci pour cet incroyable début de tournée🙌! C'est super de rejouer aux Etats-Unis! Prochain arrêt LA 🚌🚀🎉 #FIAÉtatsUnis #FIASanFrancisco
….
More to come… Stay tuned! (videos, Q&A, concert & M&G pictures, etc)