Sadly, no Canadian dates are included in this summer tour. If you're from Canada and want to see Tokio Hotel in the United States, you're welcome! I know a lot of you want to, so if you ever need help with your ticket, train, bus, etc. don't hesitate to send me a message and I will try my best to help you! By the way, VIP packages will be available to purchase for Pre-sale on Wednesday at 10am + general on sale on Friday at 10am. All times Local.
**RSVP PRESALE** HERE !
RSVP to receive the presale password on Wednesday at 10AM. This is your chance to get tickets before they go on sale to the general public on Friday at 10AM.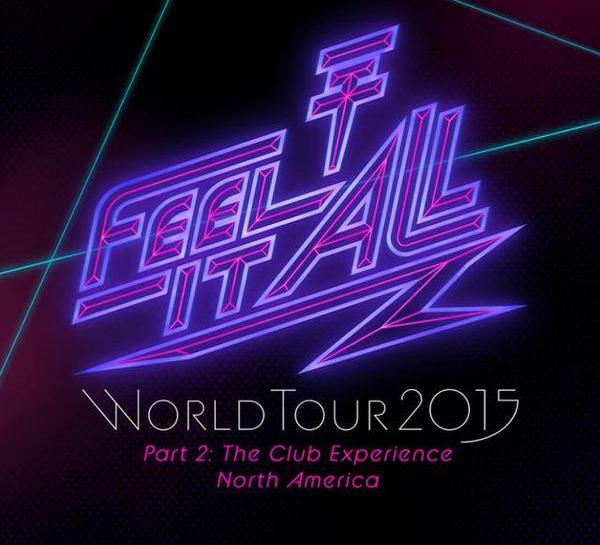 Malheureusement, il n'y a pas de dates canadiennes pour cette partie de la tournée, mais si vous êtes du Canada et voulez voir Tokio Hotel aux États-Unis, je vous encourage fortement à le faire! Je sais d'ailleurs que plusieurs d'entre vous en ont envie, alors si vous avez besoin d'aide à un moment ou à un autre pour votre billet, votre train, votre bus ou quoi que ce soit, n'hésitez pas à m'envoyer un message et j'essayerai de vous aider du mieux que je peux!

En passant, les passes VIP seront en prévente mercredi à 10h et seront en vente vendredi également à 10h, heures locales.

**PRÉVENTE RSVP**


RSVP pour recevoir le mot de passe de la prévente mercredi à 10h. C'est votre chance d'obtenir des billets avant qu'ils soient en vente publiquement vendredi à 10h.
…
Tour Dates
Jul 27 – San Francisco, CA – The Fillmore: http://cncrt.ly/4Vq
Jul 28 – Los Angeles, CA – House of Blues: http://cncrt.ly/4Vr
Jul 30 – Anaheim, CA – House of Blues: http://cncrt.ly/4Vs
Jul 31 – San Diego, CA – House of Blues: http://cncrt.ly/4Vt
Aug 01 – Las Vegas, NV – House of Blues: http://cncrt.ly/4Vu
Aug 03 – Denver, CO – Summit Music Hall: http://cncrt.ly/4Vv
Aug 05 – Chicago, IL – House of Blues: http://cncrt.ly/4Vw
Aug 06 – Detroit, MI – St. Andrew's Hall: http://cncrt.ly/4Vx…
Aug 08 – Cincinnati, OH – Bogart's: http://cncrt.ly/4Vy
Aug 09 – Cleveland, OH – House of Blues: http://cncrt.ly/4Vz
Aug 11 – Boston, MA – Paradise Rock Club: http://cncrt.ly/4VA
Aug 12 – New York, NY – Irving Plaza: http://cncrt.ly/4VB
Aug 15 – Baltimore, MD – Baltimore Sound Stage: http://cncrt.ly/4VC
Aug 16 – Philadelphia, PA – Theatre of Living Arts: http://cncrt.ly/4VD

…