Andrew Brawl designed the single cover for 'Feel It All' by Tokio Hotel. It is inspired by 'kids', a film by Larry Clark. The single will be released on April 3rd. It will feature 5 tracks: 1. FIA – Main version – 2. FIA – Live New Years Version – 3. FIA – Pioneer Remix – 4. LWLYB – Pioneer Remix – 5. LWLYB – Cazzette Remix. You can preorder it here on Amazon.de.
Ps: Tokio Hotel will be going on tour again this summer, with the world's largest and most successful artist agency: William Morris Agency (WME)
Andrew Brawl a fait le design du cover du nouveau single "Feel it All" de Tokio Hotel. La pochette est inspirée du film "kids" par Larry Clark. Le single sortira le 3 avril prochain. Vous pouvez le précommander ici. Plus de détails ci-dessous.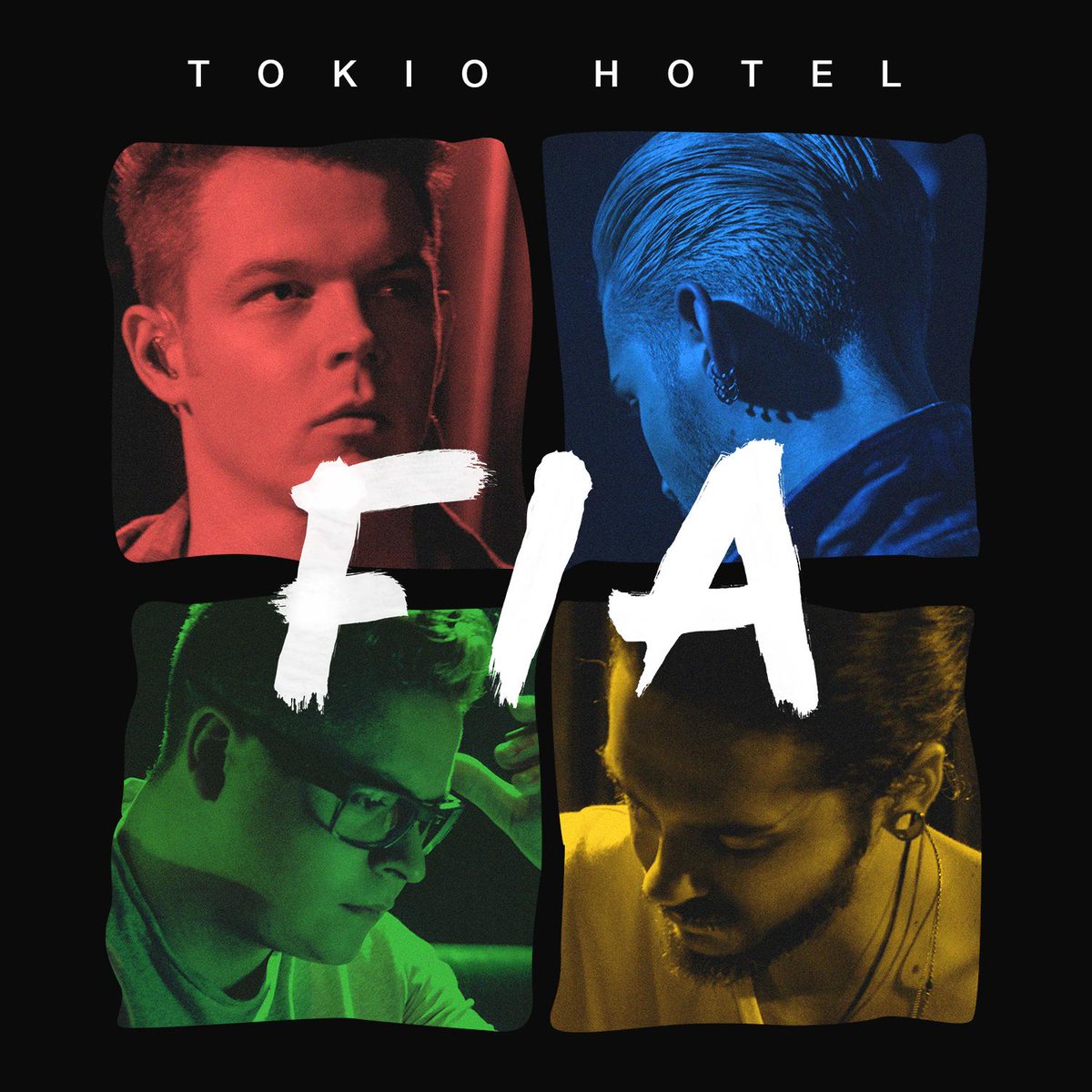 Via Universal – Reprise de « Run, Run, Run » par Kelly Clarkson
Kelly Clarkson et John Legend reprennent la chanson de Tokio Hotel « Run, Run, Run » / Contrat signé avec William Morris Endeavor. / Nouveau single « Feel It All » le 3 avril 2015.
Le printemps 2015 est placé sous le signe de Tokio Hotel. Bill (25 ans), Tom (25 ans), Gustav (26 ans) et Georg (27 ans) ont eu l'honneur de voir la détentrice d'un Grammy Kelly Clarkson reprendre leur chanson « Run, Run, Run » sur son album à paraître en mars. Pour l'accompagner sur cette interprétation, la gagnante de trois Grammy a choisi John Legend, récemment couronné d'un Oscar. Une vraie sensation ! Ensuite, presqu'au même moment, les Tokio Hotel ont signé un contrat de représentations internationales avec l'agence artistique la plus célèbre du monde : William Morris Endeavor Entertainment (WME représente des artistes tels que Pharell Williams, Lady Gaga, Timo Maas). Le 6 mars, les Tokio Hotel entameront à Londres leur tournée mondiale avec leur nouveau concept, « Feel It All – Part I – The Club Experience ». Et le 3 avril sortira le nouvel EP « Feel It All », avec la chanson du même nom, deuxième single de leur album « Kings of Suburbia ».
Le titre entraînant « Feel It All » donne non seulement son nom à la tournée, mais en donne également le ton. Cette tournée exclusive passera en mars par quinze villes européennes, avant de continuer dans le reste du monde en été, avec WME. « Feel It All » représente le sentiment que l'on a quand on ne veut pas que la fête s'arrête, quand on ne veut pas rentrer chez soi. Quand on voudrait que la nuit ne finisse jamais.
Il est donc logique que « Feel It All » ait vu le jour lors d'une « after-party » dans le studio personnel de Bill et Tom Kaulitz, un matin à deux heures, dans les Hills de L.A. « Il était encore tôt et nous voulions absolument continuer à faire la fête », se souvient Bill. « J'ai toujours des difficultés à arrêter quand je me sens vraiment bien et que tout se passe bien – qu'il y a les bonnes personnes, la bonne musique, assez à boire et tout ce que l'on trouve dans ce genre de fêtes. Tout est parfait. Et je ne veux simplement pas que ça se termine, même quand le soleil commence à se lever à l'horizon. » L'ambiance de la chanson est celle de l'« after » – toujours dans le club, toujours danser, mais plus aussi fort. Un rythme entraînant, mais plus doux – on veut continuer à danser, mais le son ne s'impose plus autant, ne fait plus si mal. Bill associe également à « Feel It All » tout le spectre des sensations : « Pour moi, il s'agit vraiment de tout ressentir : le bon et le mauvais, la lumière et l'obscurité, l'amour et la haine, la dépendance et la liberté. Cela me rappelle mon film préféré « Kids », qui représente parfaitement cette diversité et cette proximité que l'on retrouve entre l'amour et la haine, l'espoir et le désespoir, la quête et la dépendance. Cela m'a accompagné toute ma vie – quand j'avais 13 ans, je passais déjà des nuits entières dehors avec mes amis, je m'évadais de mon quotidien, loin de la maison et de la tristesse. Je connais ce besoin de liberté, de rébellion, contre les règles et le système. » Et c'est ainsi que « Feel It All » est devenu également un hommage à ce film des années '90 – non seulement dans son contenu, mais surtout visuellement, avec sa couverture et sa vidéo tournée à Berlin, dans laquelle Bill nous emmène dans les profondeurs de la nuit.
Et pourtant, « Feel It All » a bien failli ne pas exister ! Tom révèle : « La première version a vu le jour assez vite. C'était un de ces titres qui arrivent comme ça, droit de nos émotions. Et quand la chanson a dû être transmise aux producteurs, plus personne ne retrouvait les données originales. Nous n'avons sans doute pas fait attention lors des enregistrements, et nous n'avons alors pas eu d'autre choix que d'envoyer simplement le fichier MP3, que nous avions encore. »
L'EP contiendra cinq titres. En plus de la version principale, on y trouvera également la version live du Nouvel An et le remix de « Feel It All » par Pioneer. Les remix de « LWLYB » par Pioneer et par Cazzette, un des duos de DJ les plus célèbres actuellement, se trouveront également sur l'EP. Toute une série de titres cool et excitants, qui donnent un avant-goût parfait pour l'expérience « Club » de la tournée, que Bill, Tom, Gustav et Georg présenteront à partir du 6 mars dans un cadre restreint et exclusif.
Aperçu du EP « Feel It All » :
-« Feel It All » – Version principale
-« Feel It All » – Version live du Nouvel An
-« Feel It All » – Remix Pioneer
-« Love Who Loves You Back » – Remix Pioneer
-« Love Who Loves You Back » – Remix Cazzette
Concerts : Feel It All – Part I – The Club Experience
-06.03., Assembly Hall, Londres, GB
-08.03., Bikini, Barcelone, Espagne
-09.03., Le Moulin, Marseille, France
-11.03., Le Trianon, Paris, France
-12.03., Cirque Royal, Bruxelles, Belgique
-14.03., Gibson, Francfort, Allemagne
-15.03., Volkshaus, Zurich, Suisse
-17.03., Fabrique, Milan, Italie
-18.03., Kesselhaus, Munich, Allemagne
-20.03., Halle, Tor 2, Cologne, Allemagne
-21.03., Tivoli Vreedenburg, Utrecht, Pays-Bas
-23.03., Heimathafen, Berlin, Allemagne
-24.03., Kulturkirche, Hambourg, Allemagne
-26.03., Arena, Vienne, Autriche
-27.03., Club Stodola, Varsovie, Pologne
Traduction par *Elena*
…